Plenary Speaker: Bert van der Linden
The missing "Thing" in Internet of Things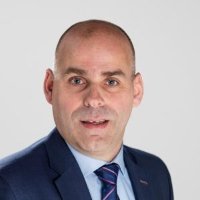 Bert van der Linden
ATS Applied Tech Systems B.V., Netherlands
SPEAKER BIO
Bert van der Linden is a senior lecturer and consultant of Automation Engineering at ATS Applied Tech Systems B.V. a multinational company specialized in automation of big plants (Aerospace & Defence, Automotive, Electronics, Food & Beverage, Life Sciences,Metals & Mining).
He is the leader of teachers in the field of education, didactics and technology. He delivers vocational education/training about industrial automation, IEC61131-3, communication, Industrial IoT.
He develops new training and instruction materials, like workshops on Industrie 4.0 and Industrial IoT for engineers, and he writes articles in magazines about these topics.
He is deeply involved in industrial automation evolution. He is member of the following working groups International working group Industrie 4.0 (PLCopen), Industrial Platform Cyber Security (NEN) Platform about ISA 99/ IEC 62443, International working group Software Construction Guidelines (PLCopen). He is also Deputy Chairman of the Competence centers of the PROFIBUS PROFINET International association.
ABSTRACT
Do we need to change our focus or strategy from digitisation/connectivity to automatic control (automation)? We work hard to develop a flexible infrastructure of "Things" at this moment. This flexible infrastructure consists of sensors - for example in a mesh network - that are connected to IoT platforms, like Amazon Web Services (AWS), IBM Watson or Microsoft Azure IoT Hub. These platforms make it possible to integrate not only sensors but also actuators and controllers.
Why? We develop these complete infrastructures to serve humans to reach their goals. Humans can share the whole world via IoT!
So, we have a flexible infrastructure of shared resources (capacities, services), but on the other hand we have the goals and needs of the users. Resources are the means to realise the end results. But what happens if we need to share a resource? Is it possible that the (human) goals are going to compete? And how do we solve this shared resource problem in the IoT infrastructure. Do we need coordination or negotiation? And can we automate this kind of control?