Plenary Speaker: Emiliano Sisinni
Wireless Networks for Industrial Applications.
Current Solutions and Future Trends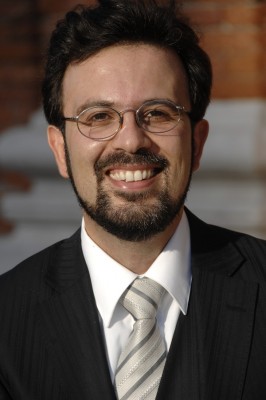 Emiliano Sisinni
University of Brescia, Italy
SPEAKER BIO
Emiliano Sisinni was born in 1975. He obtained the Italian "Laurea" degree (M.Sc.) in electronic engineering in 2000 at the University of Brescia. In 2004, he got the Ph.D. in "Electronic Instrumentation" at the same University. From 2005 to 2015 he was with the Department of Information Engineering of the Brescia University as a Researcher (Assistant Professor) in the field of electronics. From 2015 he is Associate Professor in the same department.
Since 2004 he has been involved in teaching activities. He teaches the course of "Digital Systems for Signal Processing" within the Communications technologies and multimedia Laurea degree (M.Sc., in english) and the course of "Electronic System Design" within the Electronic Engineerig Laurea degree (M.Sc). He is also Associate of the course "Fundamentals of Electronics" within the B.Sc. in Information Engineering. Since 2003 he taught the course "Numerical Instruments Laboratory" of the SILSIS course at the University of Bergamo. Since 2000 he has been supervisor of more than 60 theses and stages.
His main research topic is the development and the performance evaluation of digital networks for industrial communications. In particular, as regards "wireless fieldbus", he has worked on the development of protocol stacks and node hardware with the aim of maximizing determinism, Energy efficiency and measurement accuracy. He has also been involved in the development of digital signal processing of data retrived from sensors based on microcontrollers, DSPs and FPGAs. Some specific topics are the study and development of new techniques to manage signals of position sensors (LVDT, encoders), and the development of innovative numeric instrumentations based on Barkhausen effect for the analysis of residual stress in ferromagnetic materials. He is the author of more than 70 international papers (scientific journals and conference proceedings).
The research activity on synchronization of PROFINET networks has been awarded as "Best Work In Progress" during ETFA2008 (IEEE conference on Emerging Technologies and Factory Automation).
He is also Host Committee Co-Chair of ISPCS 2009 (IEEE International Symposium on Precise Clock Synchronization). Since 2008 he is in the sub-committee 65C (Digital communications for control systems) of Technical Committee 65 (Control and measurement in industrial processes) of CEI (Italian Electrotechnical Committee). He is also within the committee SC65C - WG16 and WG17 and the TC65C - WG 17 of the IEC (International Electrotechnical Commission).
ABSTRACT
The use of wireless in industrial applications has become a reality in the recent past thanks to availability of low-cost, reliable technologies and widely accepted standards, ensuring interoperability among different manufacturers. However, research effort in the area of wireless sensor networks (WSNs) are still required in order to effectively address several issues, e.g. including long lifetime, safety and determinism, such that real-world WSNs can be adopted properly in the industrial automation domain. This keynote presents the major requirements for typical applications in process automation (which better match capability of currently available WSNs w.r.t. factory/discrete automation) and tries to outline the future research trends for industrial WSNs (IWSNs). In particular, the advent of the Industrial Internet of Things (IIoT) represents a growing trend in the automation industry and it promises to use wireless technologies to not only reduce deployment time and cost but to unlock and increase knowledge of the plant status (e.g. complementing "brand new" wireless node with retrofitted previously deployed devices) for improving overall efficiency. The capability of consumer-derived technologies to address industrial automation requirements is discussed, as the Low Power Wide Area Network originally designed for smart cities applications.
DOWNLOAD